Armenian Chess Guest House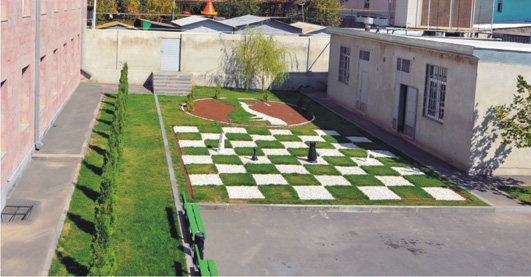 The Chess Academy hotel was built in 2009 and equipped throughout with modern
conveniences and communication technology.

The three-story hotel has 23 comfortable rooms for your rest and comfort.
Situated in a quiet neighborhood of Yerevan, the hotel is a 10-minute drive
from Zvartnots International Airport.

Our experienced staff is happy to welcome guests from around the world.

Among the many conveniences located a few hundred meters from the hotel, there is a
supermarket which is open around the clock, and the Garegin Nzhdeh metro station.
Business Single Premium

double bed, sofa, 2 armchairs,
2 tables, 4 chairs, wardrobe,
TV set, bathroom.


Business Twin

2 beds, table, chair, wardrobe,
TV set, bathroom.


Economy Twin

2 beds, table, chair, wardrobe.

Check-in time is 14:00,
check-out time is 13:00.

Availability of rooms cannot be guaranteed
for an early arrival if not pre-booked.

For a late check-out until 18:00,
50% of the room rate will be applied.

Conference hall


Our hotel is the ideal location for your conferences, meetings and banquets.
Each of our meeting/training rooms and conference halls are available on demand by an hour, half-day or full day. A projector can also be provided.

Library

You can make use of the library for a quiet place to read or borrow literature during your stay at the hotel.

Playing halls


The spacious halls are well suited for the organization of tournaments.



Dining room


Breakfast is available from 9:00 to 11:30

Health activities


On site, guests of the hotel can play tennis, billiards,
table football and use the exercise facilities.

Medical center

Our doctor is ready to assist you with any health question that may arise during your stay.

Sauna

The Sauna is available for our guests' relaxation and health every day from 10:00-18:00.