Welcome
Welcome to the homepage of the Chess Academy of Armenia. Founded in 2002 through the initiative of GM Smbat Lputian, under the auspices of the Armenian Chess Federation, and supported by the Armenian Government, the Chess Academy of Armenia is the leading center of chess training and organization in Armenia today. The Academy's mission is multi-faceted: preparing tomorrow's elite players and trainers to maintain Armenia 's position as an epicenter in the chess world, organizing top-class chess tournaments attracting top chess players worldwide, and popularizing chess throughout the nation, primarily through its ever-growing network of affiliated chapters.
Latest News
SUSANNA GABOYAN ARMENIAN WOMEN CHAMPION
Date: 2015-01-24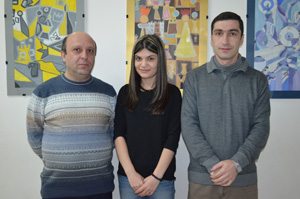 Susanna Gaboyan, the student of the Chess Academy of Armenia, became Women's Champion in the Armenian Chess Premier League held in the Central House of Chess player after Tigran Petrosian from 11-21 January, 2015. She scored 7 points out of 9 possible.
Our congratulations to Susanna and her Coach Arsen Eghiazaryan.
more...
---
ANDRANIK MARGARYAN MEMORIAL - ROUND ROBIN
Date: 2015-01-16
Today was the last round of Andranik Margaryan Memorial Round Robin Tournament. FM Kirill Alekseenko (Russia) scored 6.5 points out of 9 and became the winner of the tournament. The second place with 6 points took GM Hovik Hayrapetyan (Armenia). IM Maksim Chigaev (Russia) and IM Manuel Petrosyan (Armenia) scored 5.5 points and shared third-fourth places.
For more photos please click here.
more...
---
ANDRANIK MARGARYAN MEMORIAL - 2015
Date: 2015-01-16
The closing ceremony of Andranik Margaryan Memorial Swiss Tournament was held today at the Chess Academy of Armenia. Over 780 young chess players took part in this annual tournament.
Final results of the tournament are available on chess-results.com website. For more photos and video of the tournament please click the respective buttons.
more...