Meeting of FIDE EDU Commission in Tsaghkadzor
2019-05-06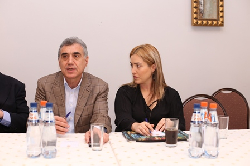 Today, at 6th of May FIDE EDU Commission meeting was held in Tsaghkadzor, Armenia. This is the first Commission meeting with GM Smbat Lputian in chairman's role.
Many famous personae of chess world attended the meeting, such as Commission's Chairman Mr. S. Lputian, Commission's Honorary Chairman & Secretary Mr. K. O'Connell, Commission board members Mr. Y. Vladimirov, Mr. L. Garcia, Commission members Mr. S. Loeffler, Mr. A. Onischuk, Mr. T. Mothokomedi, FIDE Vice President Mr. N. Short, FIDE Honorary Vice President Mrs. J. Polgar, Iceland CF President Mr. G. Bjornsson, FIDE TRG Secretary P. Long and others.
Photos of the meeting are placed on our website.