The 10th Andranik Margaryan Memorial - Closing Ceremony
2020-01-18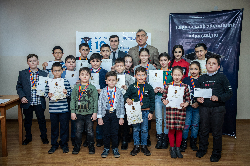 The closing ceremony of the 10th Andranik Margaryan Memorial - Swiss Tournament was held on 16 of January at the Chess Academy of Armenia.
533 young chess players from Armenia, Nagorno-Karabakh, Russia, Georgia and Indonesia took part in this memorial.
The total prize fund of the memorial was 2 050 000 AMD. All the winners of the tournaments were awarded with medals, diplomas and monetary prizes.
Andranik Margaryan Memorial։ Round Robin tournament came to the end at the Chess Academy of Armenia. After the 9th round GM Hovik Hayrapetyan, who represents the Republic of Artsakh, got 6 points and won the first place. Silver medal was awarded to GM Zurab Sturua from Georgia.
IM Artur Davtyan and IM David Shahinyan from Armenia got 5.5 points each and shared 3-4 places. By calculation of additional points A. Davtyan hold the 3rd place, and D. Shahinyan is in the 4th place.