International Chess Day 2020
2020-07-20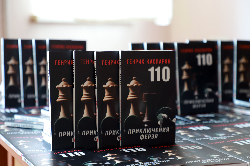 Today, July 20, is celebrated around the world as an aInternational Chess Day! We congratulate all chess players and chess fans.
Today it was also the presentation of Henrik Gasparyan's new book. The book contains 110 of his beautiful compositions.
Within the framework of the book presentation and International Chess Day event, our best chess players tried to solve 3 of the most hard compositions and the first 3 correctly solved participants received H. Gasparyan's book. Then the book was officially presented, participants and guests mentioned the 110th anniversary of Hnerik Gasparyan and his great contribution to the creation of beautiful and interesting compositions.
Chess Academy of Armenia congratulates all of us and hopes that in the future, Armenia will have big successes and victories.